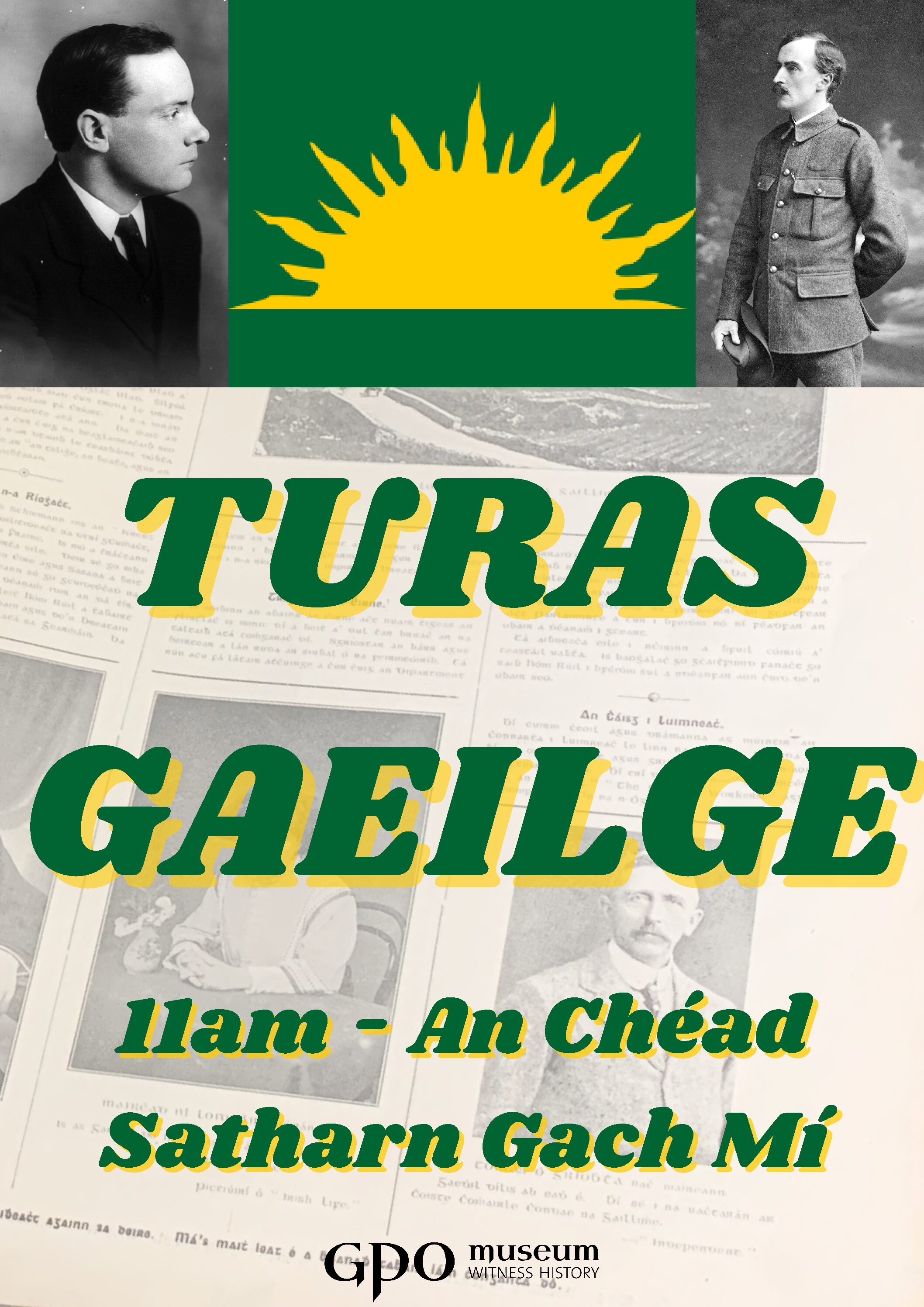 Ticéid ⁊ Tuilleadh Eolais / Tickets & More Information – linktr.ee/baclegaeilge
Beidh turais Gaeilge ar fail sa GPO Museum ar an gcéad Satharn de gach mí, ag 11rn.
Treoróidh ár treoraí turais sibh tríd stair polaitiúil, sóisialta, agus míleata na hÉireann, le béim
ar Éirí Amach na Cásca. Tabharfaidh sé comhthéacs don cúimsí ba chúis le an Éirí Amach,
labhrófar faoin Éirí Amach é féin, agus na hiarmhairtí, Cogadh na Saoirse, Cogadh Cathartha,
agus na Trioblóidí.
Caithigh sibh bhur áiteanna a chur in áirithe. Mairfidh an turas uair an chloig, agus beidh
cuairteoir in ann breathnaigh thart an músaem agus caife tar éis an turas. Tá go leor
déantúsáin, taispeántais idirghníomhach, agus scánnnan le feiceáil!
The GPO Museum will be hosting an Irish Language Tour on the first Saturday of every
month, at 11am. Our guide will take you through the political, social and military history of
modern Ireland in its native tongue with a focus on the Easter Rising. It will give context for
the lead up to rebellion, discuss the Rising itself, and look at its aftermath (including the War
of Independence, the Civil War and the Troubles).
Booking is essential, as availability is limited. This specially researched tour will last
approximately 1 hour and patrons are welcome to enjoy our exhibition at their own leisure
after the tour. There are plenty of artefacts, interactive screens, and even a film to explore!