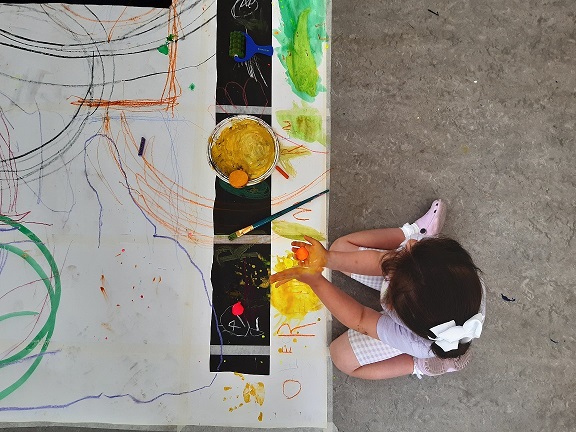 Clár Ceardlainne cruthaitheach do theaghlaigh leis an ealaíontóir Bríd Higgins Ní Chinnéide tráthnóna Dé hAoine i nDánlann an Hugh Lane.
Tá sé cheardlann ealaíne agus ceardaíochta á reáchtáil do pháisti gach Aoine óna 3-4:30 i stiúideo oideachais na Dánlainne.
Ón 22ú Meán Fómhair ar aghaidh, beidh an t-ealaíontóir Bríd Higgins Ní Chinnéide i mbun ceardlann dírithe ar thuistí agus páistí ó aois 6-12. Déanfar plé leis na páistí arshaothair eagsúla atá i mbailiúchán na Dánlainne agus déanfaidh na páistí agus tuistí a gcuid saothar féin le Bríd sa stiúideo leis na hábhair uilig atá ar fáil ann/ag úsáid ábhair éagsúla atá curtha ar fáil ann.
Tá na ceardlanna seo eagraithe mar chuid den tsraith "Make and Be", a chuireann ranganna ealaíne ar fáil trí mheán teangacha éagsúla i rith na bliana.
Tá Gaeilge agus Béarla ag Bríd agus is féidir an cheardlann a dhéanamh go dátheangach nó as Gaeilge amháin. Is í aidhm na gceardlann páistí agus tuistí a chur ar a suaimhneas sa Dánlann agus iad a spreagadh le bheith ag spraoi go cruthaitheach le chéile leis an réimse leathan ábhair ealaíne atá ar fáil.
Cuirigí bhur n-áiteanna in áirithe anseo (ticéid saor in aisce, ach ní mór áit a chur in áirithe do chuile páiste agus duine fásta).
Tuilleadh eolais ag Cleo Fagan cleo.fagan@dublincity.ie
Beidh na ceardlanna á reáchtáil idir 3:00 – 4:30 na laethanta seo:
22 Meán Fómhair
29 Meán Fómhair
6 Deireadh Fómhair
13 Deireadh Fómhair
20 Deireadh Fómhair
27 Deireadh Fómhair
….
Would you and your children like to do a fun, free, creative workshop on Fridays from 3-4.30pm at Hugh Lane Gallery on Parnell Square in Dublin 1?
From Friday 22 September and for 6 weeks, we are inviting families to come and work with artist Bríd Higgins in our creative family workshop series 'Make and Be' for parents and children and children aged 6-12.
Each workshop will be fun and creative. We will work creatively together and every adult and child will have the opportunity to work with various types of materials, explore different ideas about art and connect with each other. Everyone is welcome to use and share their experiences in the language they feel most comfortable with.
Artist Bríd Higgins can speak Irish and English and the programme will take place through Irish, and English.
This programme will take place at the Hugh Lane Gallery (Education Space), Parnell Square North, Dublin 1
To join us for this exciting project, booking is essential, please book here. **Please book a space for each member of your family that will attend the workshops, parents included.* Participation is free of charge. Space is limited. All materials are included.
If you have any questions, please feel free to get in touch with Cleo Fagan on cleo.fagan@dublincity.ie
This project will run every Friday from 3-4.30pm on the following dates:
22 September
29 September
6 October
13 October
20 October
27 October